I know what you're thinking:
"Really? Having someone taking photographs while I'm giving birth? I don't like having my photograph taken at the best of times!" But then you see the photographs and you realise it's a story, it's not about the graphic details rather it's about the emotions: the way your partner looks at you and the way you hug each other through your contractions. It's about the smiles (yes! the smiles) in between when you share a moment with your midwife. It's about those amazing first moments with your baby and the sheer elation on your face as you welcome her into your family. In those moments every mother is beautiful.
The day you give birth is likely to be one of the most emotional days of your life and yet afterwards, as any mother will tell you, it can become a hazy dream. You'll remember little flashes of it but you'll have difficulty explaining it and the details will fade.
Which is why it's not so crazy after all. To have those images to hold in your hands for all the years to come, for your baby to have a record of the day they entered the world and the love he was welcomed with. I'm there to tell your story and to do so with sensitivity and care.
If you are considering this and would like to know a bit more please get in touch and we can get together over a coffee, or a juice, and chat.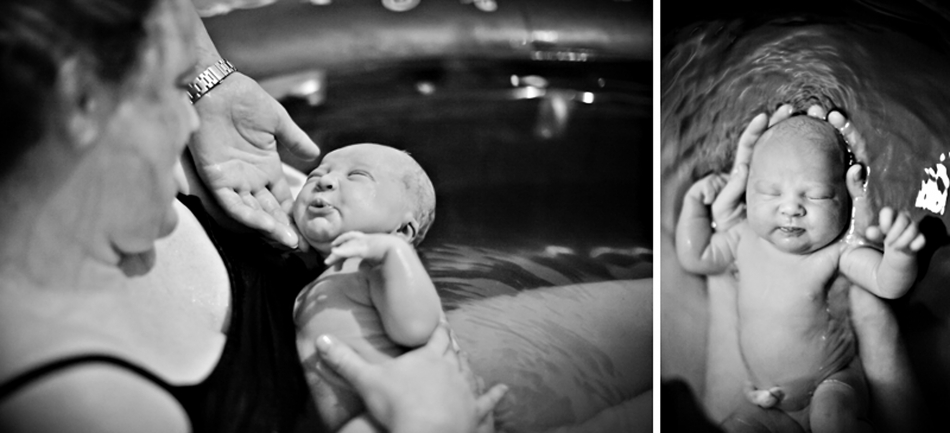 Frequently Asked Questions:
Why should I hire a birth photographer?
You may think that your husband or midwife might be able to take a few snaps so why would you need to hire a professional? Well, your husband will most likely be holding your hand and your midwife will be busy rubbing your back and if they do manage to think about taking your photograph do you trust them to use the most flattering angle and handle tricky lighting? I have no other job during your birth besides capturing beautiful emotional images of everyone there so the pressure will be off Dad and he'll be in those all important photographs, not taking them.
How far will you travel for a birth?
I am based in Greystones in Co. Wicklow so realistically I will travel anywhere within a 45 minute to an hour's drive of my location. So North/Central Wicklow – South/Central Dublin. Contact me if you're unsure whether you fall within my catchment area.
I really want my birth to be intimate and quiet, will having a photographer there be a distraction?
I will be as quiet as a mouse and will be doing everything I can to blend into the background. I'm there as an observer and nothing more, I will not interfere or get in the way. I've had two children of my own and I understand what it's like to be in labour, I will be sensitive to your needs at all times. For this reason I don't bring flashes or lots of camera gear with me.
When should I get in touch with you to make a booking?
As soon as you can. I need to clear the time around your due date so the sooner I have you in my diary the better. Summer months are quicker to book up as that is when I photograph weddings. I will be on call for 4 weeks, you decide when those 4 weeks start, and any time day or night that you go into active labour I will be ready.
I'm having a hospital birth, can you photograph there?
Sadly no, Ireland still has a strict policy in most hospitals of only one person in the delivery room with a mother and usually that would be your partner. If that changes I would love to photograph hospital births but for now I'm only able to be there if you are having a home birth.
What if I change my mind or my home birth doesn't go ahead for some reason?
No problem at all, if you change your mind and decide not to go ahead with it for whatever reason this is completely up to you. Your initial €100 booking fee is non-refundable. However you can choose to transfer it to a newborn shoot instead.
What if my labour doesn't go to plan and I have to transfer to hospital?
Again, I will capture whatever part of your labour does happen at home and then we can schedule a time as soon as possible for me to come and capture your newborn. The same will apply if you have a really fast labour and I don't make it to you in time.
How long will you stay? What if I have a really long labour?
Birth photography by definition is unpredictable but I will be there for as long as you need me to be, I won't be watching the clock. As soon as you are in active labour give me a call and I will stay until an hour or two after your baby is born.
I'm concerned about my privacy, will I have control over who sees the photographs?
Of course! I would love if you would allow me to share some of your photographs so that other mothers might see them, but ultimately this decision is up to you and I will always honour your wishes.
How much will it cost?
Birth coverage starts at €500 and includes a slideshow set to music for you to treasure and share. Please get in touch for more details.
If you have a question that I've not answered here, please don't hesitate to drop me an email at claire@newborn.ie. I'd love to hear from you!